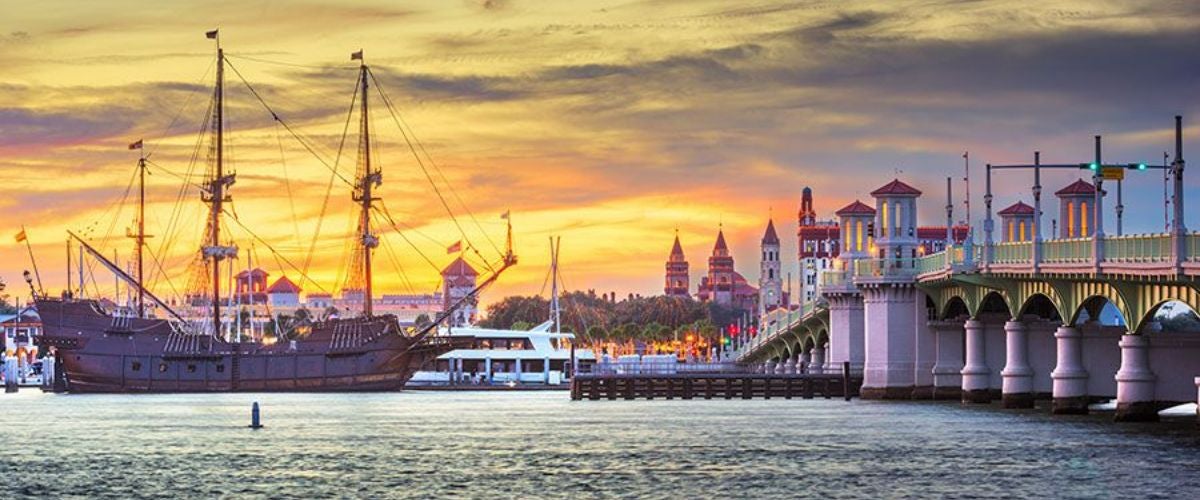 ST. AUGUSTINE: YOUR PICTURESQUE MUSIC FESTIVAL PLAYGROUND
What's a music festival without the perfect backdrop?
Nestled along the scenic coastline of northeastern Florida lies the enchanting city of St. Augustine, a place where history and music intertwine to create an unforgettable experience. At the heart of this captivating destination is Sing Out Loud Festival, an annual extravaganza that beckons music enthusiasts from near and far.
St. Augustine's cobblestone streets hum with stories waiting to be discovered, its quaint buildings whisper tales of a rich past, and its breathtaking sunset paints the sky with a vibrant palette of colors. Bursting with soul-stirring performances, local talent, and a vibrant atmosphere, Sing Out Loud Festival in St. Augustine is a must-visit for out-of-town visitors seeking a symphony of sights, sounds, and serendipitous encounters.
Have you ever visited St. Augustine? If not, here's a few reasons to change that this September:
Explore the Charms of Historic St. Augustine:
Beyond the festival grounds, St. Augustine beckons visitors with its timeless charm and captivating history. Take a leisurely stroll along the cobblestone streets of the historic district, where centuries-old buildings house eclectic shops, galleries, and cozy cafes. Embark on a guided tour to discover the secrets of the nation's oldest city or visit the imposing Castillo de San Marcos, an ancient Spanish fort that has withstood the test of time. Immerse yourself in the ambiance of St. Augustine's rich past while indulging in the festival's harmonious melodies.
Soak Up the Sun and Surf:
St. Augustine's idyllic location on Florida's northeastern coast means visitors can savor the perfect blend of music and sunshine. After reveling in the festival's daytime performances, head to one of St. Augustine's pristine beaches for a refreshing dip in the Atlantic Ocean. Whether you're a seasoned surfer or a sun-worshipper, the miles of golden sands provide an ideal spot to unwind, recharge, and bask in the warm Florida sunshine.
Culinary Delights and Craft Breweries:
No visit to St. Augustine is complete without savoring its culinary delights. From tantalizing seafood to farm-to-table creations, the city's vibrant food scene promises a treat for every palate. Sip on a refreshing craft beer at one of St. Augustine's local breweries, indulging in the unique flavors crafted by passionate artisans. As the sun sets over the festival, venture out into the city's vibrant nightlife, where live music venues and cozy bars offer the perfect complement to the day's melodic experiences.
Diverse Lineup of Musical Magic:
Sing Out Loud Festival proudly showcases a diverse array of musical genres, guaranteeing something for every taste. This year's lineup promises to captivate and inspire, featuring internationally acclaimed headliners and emerging local artists. Here are just a few of the remarkable performers awaiting festival-goers:
Friday, September 22: The Black Keys, Lord Huron, Yola, and War Hippies take the stage, bringing their unique sounds and dynamic performances. From The Black Keys' electrifying rock anthems to Lord Huron's mesmerizing folk melodies, the evening promises to be a journey through captivating musical landscapes.
Saturday, September 23: Brace yourself for an unforgettable night as Mumford & Sons, Maggie Rogers, Elle King, Amos Lee, and S.G. Goodman grace the stage. Mumford & Sons' anthemic folk-rock harmonies, combined with Maggie Rogers' infectious pop sensibilities and Elle King's powerful vocals, will create an atmosphere charged with pure musical magic.
So, what are you waiting for?
Sing Out Loud Festival in St. Augustine, Florida, is an extraordinary music festival that promises a memorable journey through captivating performances, and the timeless allure of St. Augustine itself. Immerse yourself in the symphony of sounds from renowned artists, explore the city's rich heritage, bask in the warmth of the Florida sun, and discover the vibrant culinary and nightlife scene.
Whether you're a music lover, history enthusiast, or simply seeking an unforgettable experience, Sing Out Loud Festival in St. Augustine is the perfect destination for an unforgettable getaway.