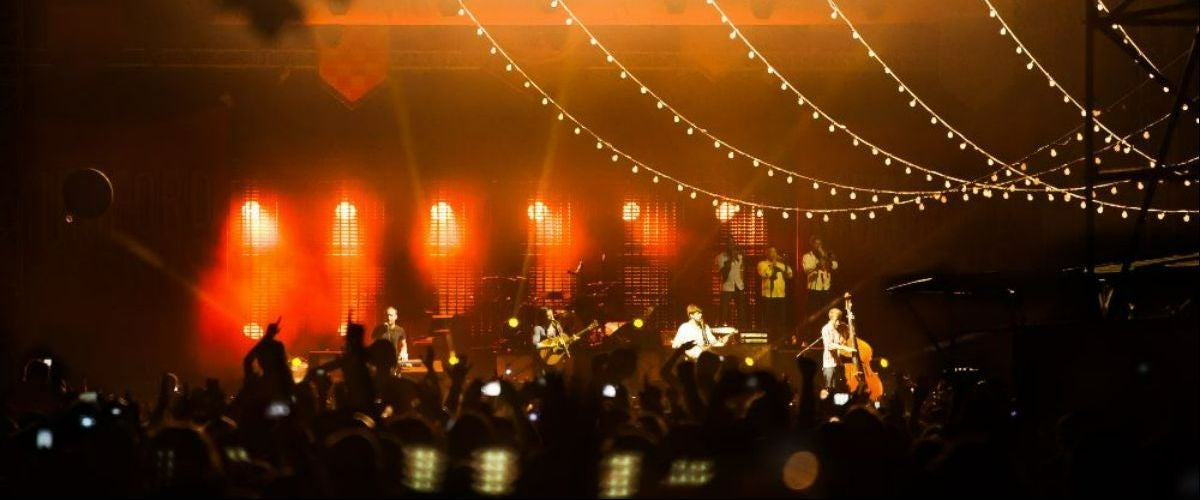 SING OUT LOUD & JOIN THE HEARTBEAT OF HISTORY WITH MUMFORD & SONS
Mumford & Sons Returns to St. Augustine 10 Years Later
Gather 'round, because we've got a once-in-a-lifetime line-up to announce, tailor-made for the dreamers, the wanderers, and those who crave authenticity and passion in their live music. Ready your hearts and your dancing shoes, for Sing Out Loud Festival is about to descend upon the historic streets of St. Augustine this coming September, and you do not want to miss it.
From the soulful strains of The Black Keys to the enchanting melodies of Lord Huron, we've amassed an eclectic mix of symphonic storytellers for your auditory pleasure. Just imagine, there you are, beneath the luminescent Florida night sky, as Yola's soaring vocals declare life-affirming truths and War Hippies' earnest songwriting washes over you in waves. Can you feel it? The heartbeat of St. Augustine pulsating in time with your own, the crowd's unified rhythm creating a captivating symphony of anticipation.
But folks, that's just the start. Because when Saturday dawns, prepare yourselves for a musical experience that will stir your spirit and awaken your senses. The day we've all been waiting for – Mumford & Sons. This band of London lads, known for their fervent live shows and heartfelt performances, will grace our stage, leaving no heart untouched and no foot unmoved. Just picture it, their harmonies resonating through the crowd, a united front of banjo, bass, and voice, stirring the air with the magic only live music can conjure.
But the musical merriment doesn't stop there, as we've got Maggie Rogers, Elle King, Amos Lee, and S.G. Goodman waiting in the wings. From the euphoria of Rogers' festival-stealing sets to the raw emotion of Lee's lived-and-loved performances, each act will be an unforgettable chapter in your Sing Out Loud story.
This, dear friends, is more than a concert – it's a celebration of music, community, and the timeless charm of St. Augustine. It's a chance to stand shoulder-to-shoulder with your fellow music lovers, united by shared rhythms and shared experiences. To spend a weekend basking in the transformative power of live music, exploring the historic streets of St. Augustine by day and immersing yourself in melodies by night.
Tickets are on sale now, so, step up, seize the day, and let's make memories worth singing about. We can't wait to welcome you to our community, to share in this celebration of sound, and to witness together the remarkable spectacle that awaits. Don't just live, be truly alive at Sing Out Loud Festival.
Remember, moments like these are fleeting. But the memories? They'll resonate long after the final note has been strummed. Grab your tickets now, and let's make some music.
We'll see you in St. Augustine this September!