Jim Carrick and Charlie Simmons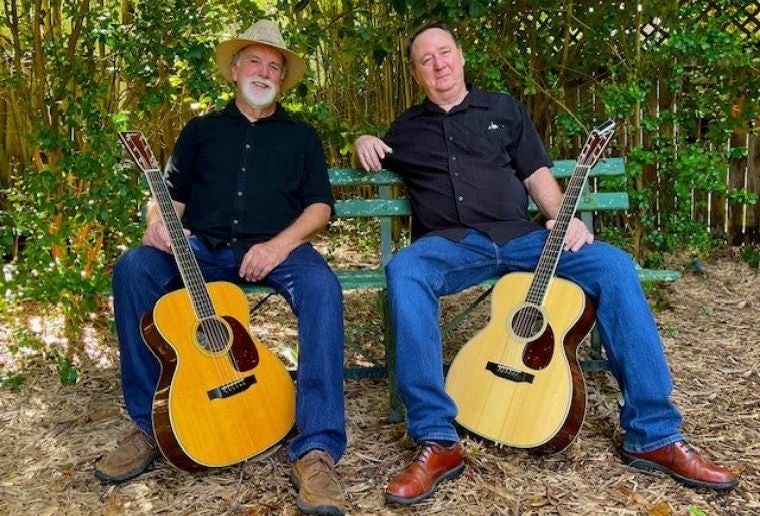 Jim Carrick's masterful Travis picking and interpretation of classic songs is always fresh and exciting. Charley Simmons, also a killer Travis style picker, spent much of his life in Utah and his original songs paint beautiful pictures of that part of the world as well as Florida.
JIM CARRICK, St. Augustine Florida's tried and true troubadour, is a master of the finger style guitar. Jim blends American finger style folk, blues, ragtime, bluegrass, old time standards, jazz guitar, and an overall understanding of finger style guitar into his body of work. Jim acquired much of his finger style guitar technique directly from Gamble Rogers and is proud to carry on Gamble's legacy through songs and stories. Jim's body of work includes unmatched tales of enchantment, love, danger, joy, heartache, loss, and stories of reckless abandon that occur most frequently during youth. Jim has become a St. Augustine icon, an exquisite storyteller, and of course, a hometown hero to the local music scene.
CHARLEY SIMMONS Charley began playing the guitar at age nine. By the age of sixteen, Charley was earning money traveling and performing throughout his home state of Delaware with a band. But it wasn't until his move to St. Augustine, Florida in 1970, and his exposure to the late Gamble Rogers, that he began to develop his own finger picking solo style. Since that time, Charley has been 1992 Utah State Flattop Guitar Champion, the 2002 Wyoming State Fingerstyle Champion, the winner of the 2003 Gamble Rogers Fingerstyle Guitar Competition and a winner in the 2005 KRCL Singer/Songwriter Competition. Charley's music is as diverse as his musical influences have been, drawing on folk, blues, bluegrass and jazz.