Big Pineapple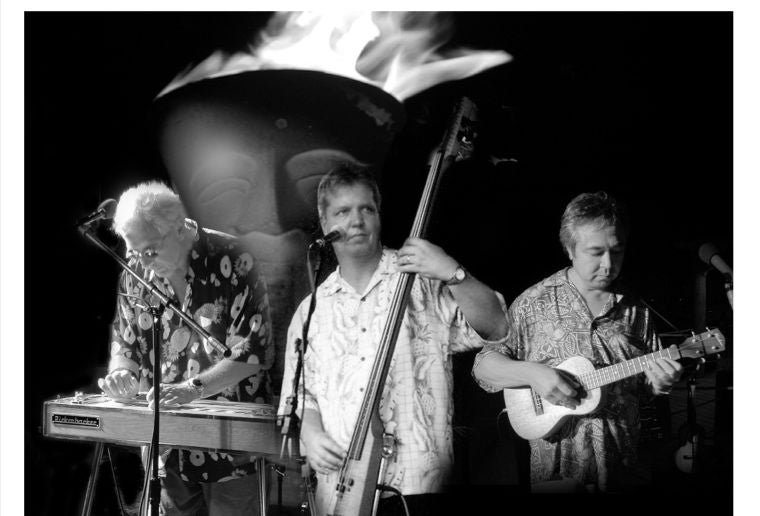 Big Pineapple plays the sweet sounds of the Hawaiian Islands. Featuring the instrumental wizardry of Rocky Blaze on Ukulele, Gary Goldsmith on Hawaiian Steel Guitar and Randy Day on Bass, BIG Pineapple's smooth renditions of contemporary and traditional island favorites evoke the romantic moods and exotic settings of old Hawaii. Expertly blending 1930's and 40's Jazz, Bossa Nova, Country and Swing music, BIG Pineapple has developed a unique, fresh sound firmly rooted in classic Hawaiian music.
RANDY DAY bass, vocals. His bass sings the Pineapple sound. Although his roots are in country music, Randy's skills allow him to adapt easily to the jazzier sounds of Big Pineapple.
GARY GOLDSMITH steel guitars, dobros. Gary grew up in Jupiter, FL under the influence of James Mitchner's "Adventures in Paradise" and "The Endless Summer". After 12 years as a musician in San Francisco, Gary returned to Florida, playing in various rock, blues, and country bands. Skills developed on slide and steel guitars, plus a passion for surf, sand, and things Hawaiian keep Gary tan and happy.
ROCKY BLAZE ukulele, vocals. Rocky, raised in San Pedro, CA was exposed to Hawaiian music at an early age. Rocky's father, a merchant seaman, would return home from South Seas voyages with tales of adventure, exotic gifts, and the occasional ukulele. After a long career in other sordid musical styles, Rocky has rediscovered the irresistible lure of swaying palms, fragrant tropical nights, and the dulcet tones of a beautiful Uke.